September 5, 2023
Hey, I wrote an article about my "Five Midwestern Horror Picks" for the Quirk Books blog! I talk about my love for Ray Bradbury's Something Wicked This Way Comes, Truman Capote's In Cold Blood, Dan Kraus's Rotters, Dan Chaon's Ill Will, and John Darnielle's Universal Harvester.. You can read the article here.
I'm fresh off a Michigan mini-tour for Bride of the Tornado! In three days I visited Grand Rapids, Petoskey, and Ann Arbor, meeting my readers. As a born-and-bred Michigander, this was a real treat, and something unexpected and fun happened at every stop. (Also, on the highway the back cover of a pickup truck blew off and flew right at me. Luckily I swerved just in time. That was unexpected but decidedly not fun.)

Hometown Michigan friends, I'm coming your way too—I'm doing a bookstore visit at Sidetrack Books in Royal Oak next month, on October 27. And Chicago, I'm doing another event this Thursday, September 7 at my neighborhood bookstore, the Book Cellar, in conversation with my podcast co-host Matt Bird, with musical stylings by Julie Jurgens! As always, my complete events schedule is here.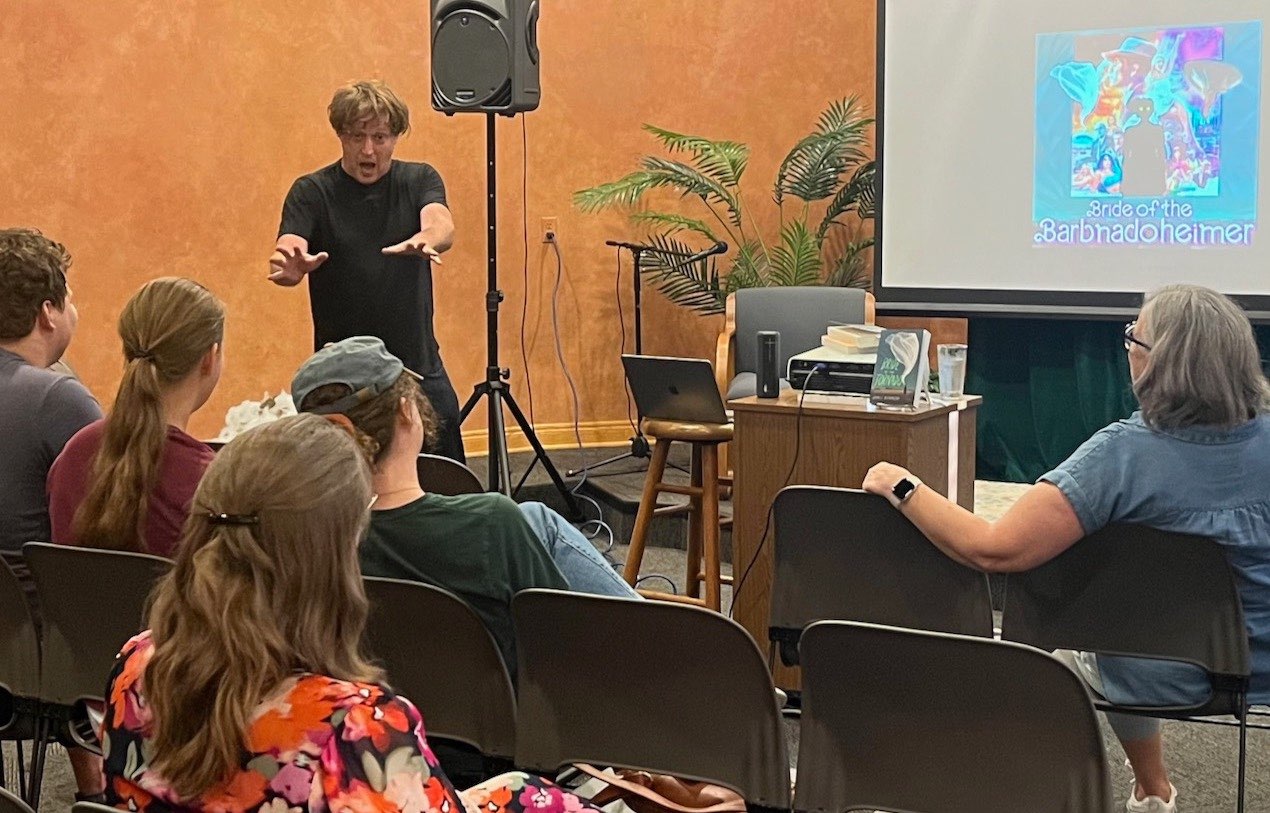 At every stop I came charging out in my tornado costume, sang "Rock You Like A Hurricane" with the lyrics rewritten to explain the plot of the book, then did some readings from the book, with a "tornado trivia contest" throw in for fun:

I started my mini-tour at Schuler Books in Grand Rapids. They have a beautiful event space in the back, and Elizabeth, Alana, and Indigo were very supportive hosts. My favorite thing, though, was meeting Josh, an Order of Odd-Fish fan from way back who has also read Dare to Know! It made me feel like I wasn't shouting into the void after all. He's a writer too—he has fiction coming up in The MockingOwl Roost, and I'm looking forward to his planned novel about "the Divine Comedy meets Jeeves & Wooster books." Here we are—that's right, he's got an old-school library-binding copy of Odd-Fish:

From there it was on to McLean & Eakin Booksellers in Petoskey. My family used to occasionally vacation in Petoskey growing up—it's a gorgeous place. McLean & Eakin rounded up a great crowd to listen to me rant and rave . . . and they had wine, pizza, and beer thanks to Beards Brewery just a few doors down!

The whole thing was arranged by Zach, whom I met because he dug Dare to Know back in 2021. He was so kind and accommodating, he even gave me a free book and a six-pack on the way out. What a fantastic night! Thank you!

From there it was on to Literati Bookstore in Ann Arbor. More big surprises here: Victoria (next to me in the picture below) had already read and loved Bride of the Tornado and had lots of smart and pertinent questions, and Jason (not pictured) and I reminisced about The Electrifying Mojo and the Wizard from 1980s Detroit radio days! (The unseen DJ "Electrifier" in Bride is based on them.)

Thanks for a great time, Michigan—and the tour isn't over! More dates to come!